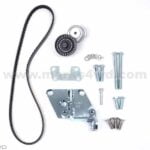 A/C Compressor Relocation Bracket – LS1 / LS2
---
Air conditioner compressor relocation bracket LS1  (VT – VZ) / LS2 V8 (VZ only) series engines (lower RHS mounting)
To Suit
LS1 VT – VZ
VZ LS2 V8's using the LS1 A/C compressor
AUD$355.00 – AUD$465.00
Description
Ask a Question
Reviews (0)
Instructions
Description
A/C Compressor Relocation Bracket to suit LS1 (VT – VZ) / LS2 V8's (VZ only) Lower RHS Mounting
The LS V8 air conditioning compressor will foul on the chassis rail when using our engine mount kits and in many other applications.
Marks4WD brackets are precision laser cut, CNC folded, welded, CNC machined and electroplated, ensuring they fit and function correctly.
This kit is designed to run the standard automatic A/C tensioner and pulley as originally fitted to your LS engine. We offer a brand new tensioner and pulley as an option above.
Our air conditioning relocation bracket suits the LS1 Air Conditioning compressor, as the LS2 compressor is not suited for the conversion
LS1 Air Conditioning Compressor – CM7020 LS1 A/C Compressor
Details
This relocation kit moves the AC compressor 55mm closer to the block, providing 55mm additional clearance to the chassis/steering box / inner guard.
Kit Includes
Top & bottom Air Conditioning compressor brackets
Multi-rib belt
Bolts, Washers
Optional tensioner with pulley
Downloadable Instructions (requires login)
To Suit
LS1 VT – VZ
VZ LS2 V8's using the LS1 A/C compressor
Notes
Only suites the LS1 A/C Compressor
The LS2 compressor is not compatible with the factory Nissan & Toyota A/C system
Therefore an LS1 A/C compressor is required for the conversion
---
Only logged in customers who have purchased this product may leave a review.