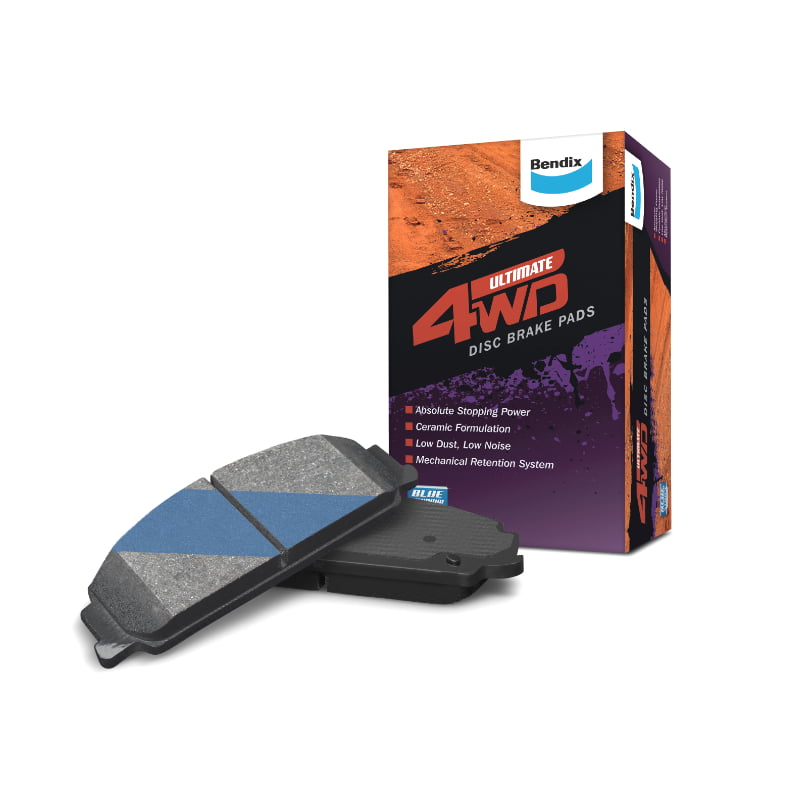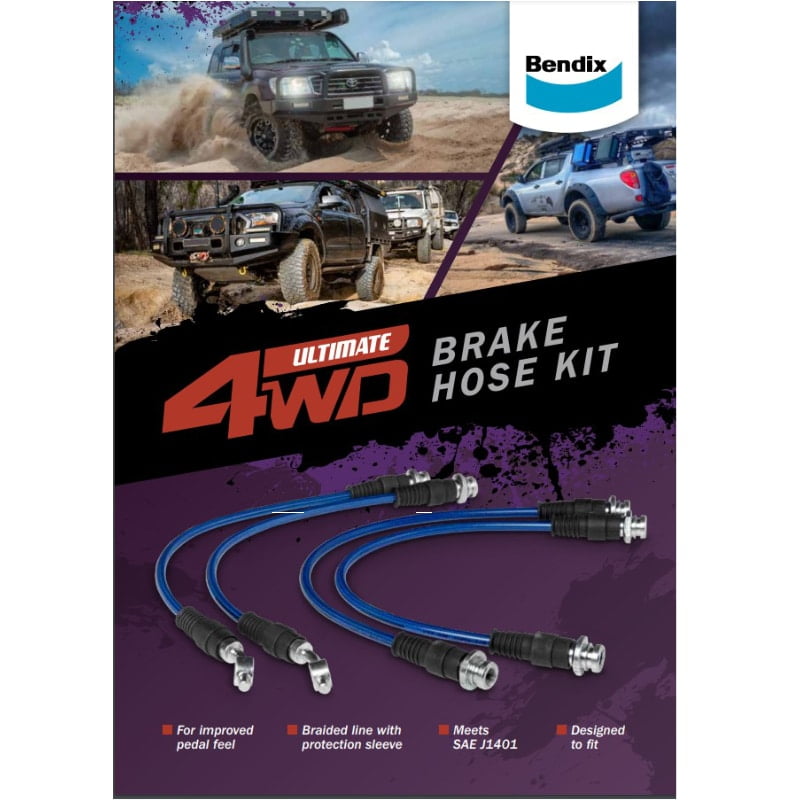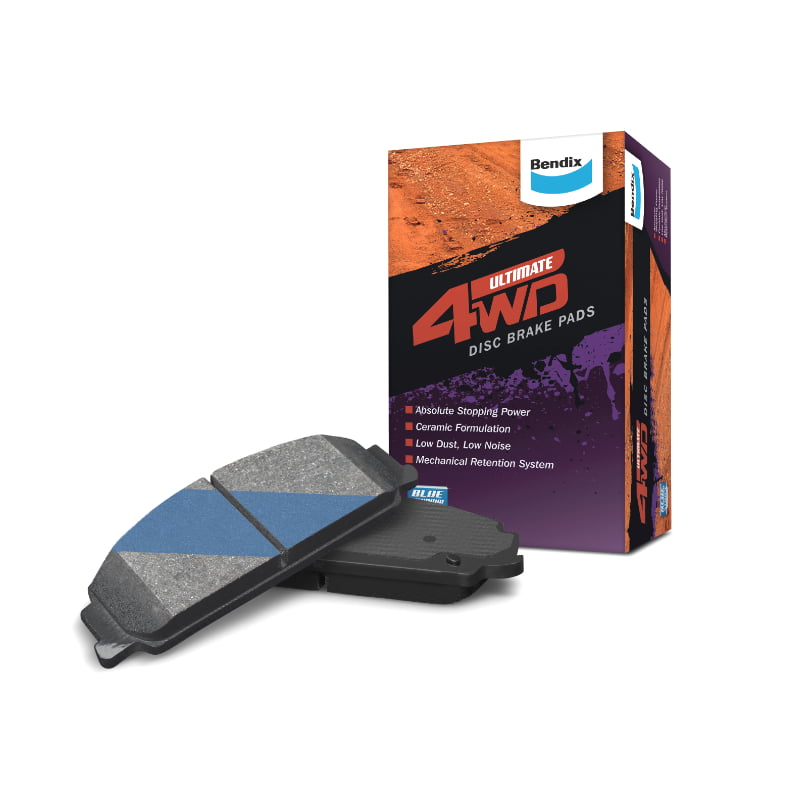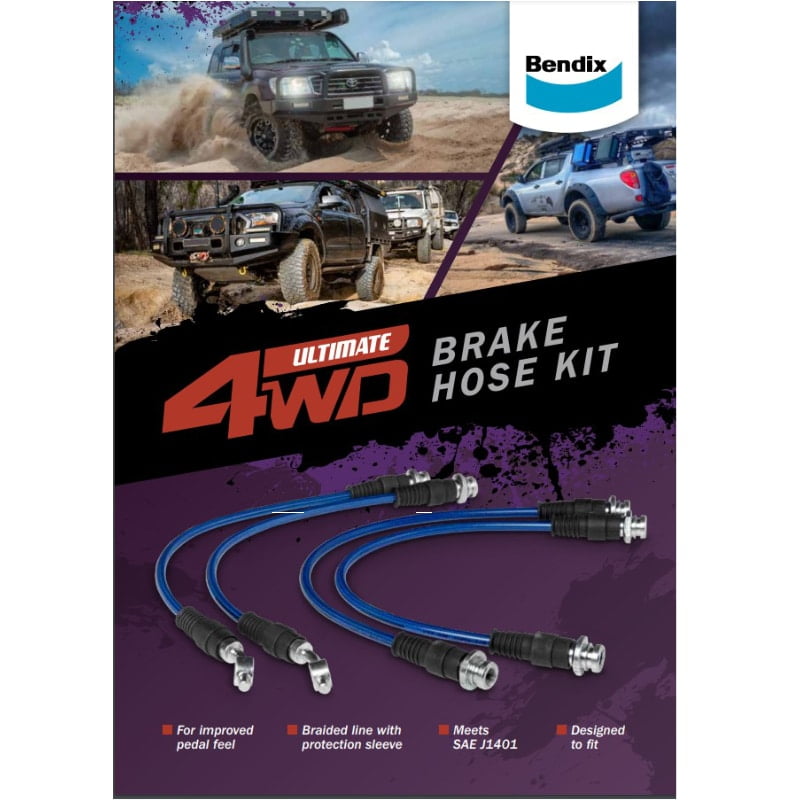 Bendix Ultimate 4WD BIG Brake Upgrade Kit (Front) – Holden Colorado / Isuzu D-Max
---
To Suit
Holden Colorado (2012 – 2020) [RG]
Holden Colorado 7 (2012 – 2016) [RG]
Isuzu D-Max (2007 – 2020) [TFS, TFR]
Isuzu Mu-X (2013 – 2021) [LS]
(Excl. Tax AUD$3,517.27)
(Ships directly from the supplier)
Description
Ask a Question
Reviews (0)
Description
Bendix Ultimate 4WD BIG Brake Upgrade Kit (Front) to suit Holden Colorado / Isuzu D-Max (0″ & 2″ Lift) U4WD-BBUK202F
The ADR- Bendix compliant BIG brake kit delivers a vastly improved braking performance, ideally suited for vehicles fitted with the many accessories commonly found on today's 4WD, from storage drawers, winches, bullbars, secondary batteries to roof racks and additional spare tyres.
Towing heavy caravans or outback trailers adds significant weight, putting greater demands on the standard factory brakes than what they are designed for.
This brake upgrade has been proven to dramatically reduce stopping distances compared to the factory OEM brakes and reduce brake fade after repeated hard braking.
The kit features Bendix's 356mm rotors, 6-Piston monoblock calipers, and braided brake lines, all conveniently packaged into a 60 Litre Icebox that you can take on your next camping trip.
Big Brakes Results
Upgrading your vehicle's braking system with the Bendix front BIG brake kit, specially designed and engineered for your vehicle, gives you the confidence of reliable and powerful stopping power on and off-road.
During testing, Bendix upgraded the front brakes of a standard PX Ford Ranger's 4WD with the BIG brake kit and upgraded the rear drum brakes with Bendix's rear drum to disc kit. The results were impressive, with the vehicle coming to a complete stop from a speed of 80 km/h in just 32.5 meters, representing a significant improvement over the factory OEM brakes of 9 meters or 1.5 car lengths.
Important Notes
Suites Standard & 2″ Lift
Requires minimum 18″ wheels
Kits are ADR Certified and come with the ADR35/05 test report
For VIC, NSW, ACT, SA & TAS. An engineering inspection is required to ensure the kit has been installed and functioning correctly before a mod plate is issued.
For QLD & WA, Since Bendix has a pre-authorised LG1 certificate, all that is required is to inform the registration authority of the installation and complete the necessary LG1 forms.

Bendix 6-Piston Monoblock Calipers
Larger 6-pot aluminium forged calipers
Ultimate 4WD Brake Pads
Ceramic Material for low dust and low noise while providing high-temperature stability and excellent fade resistance.
Mechanical Retention System, backing plate technology, is used in commercial vehicle braking systems.
Designed for slotted rotors
Ultimate 4WD Brake Rotors
Diamond Tip Slots allow gases to escape.
High Carbon Metallurgy for improved durability and increased braking performance
Swiftfit protective zinc coating for rust protection
Improved thermal stability using Bendix's pillar construction
Ultimate Brake Hoses
Braided lines with protective sleeves
Meets SAEJ1401 design standards
Designed specifically for your vehicle model
Kit Includes
2 x Ultimate Front Brake Rotors (356mm)
1 x Set of Ultimate 4WD Brake Pads
2 x Bendix 6-Piston Monoblock Calipers
Bracket Mounting Kit
1 x Front Set Ultimate Brake Hoses
1 Litre Heavy Duty Brake Fluid
1 x Can Bendix Cleanup
1 x Tube Ceramasil Brake Parts Lubricant
1 x 60L Icebox
Access to the ADR ADR35/05 test report
Part No. U4WD-BBUK202F
Bendix Ultimate Big Brake Kit
Rear Drum to Disc Conversion (Optional)
Refer to our Bendix Ultimate 4WD Rear Drum to Disc Conversion Kit – U4WD-D2D302R  (Isuzu D-Max only)

 
To Suit
Holden Colorado (2012 – 2020) [RG]
2.4 D RWD Platform/Chassis
2.8 TD RWD Platform/Chassis
2.8 TD RWD Ute
2.8 TD RWD Platform/Chassis
2.8 TD RWD Ute
2.8 TD 4×4 AWD Platform/Chassis
2.8 TD 4×4 AWD Ute
2.8 TD 4×4 AWD Platform/Chassis
2.8 TD 4×4 AWD Ute
Holden Colorado 7 (2012 – 2016) [RG]
2.8 TD AWD SUV
2.8 TD 4×4 AWD SUV
Isuzu D-Max (2007 – 2020) [TFS, TFR]
3.0 CRDi RWD Platform/Chassis
Isuzu D-Max (2012 – 2020) [TFS, TFR]
3.0 CRDi RWD Ute
3.0 CRDi 4×4 AWD Platform/Chassis
3.0 CRDi 4×4 AWD Ute
Isuzu Mu-X (2013 – 2021) [LS]
3.0 CRDi RWD SUV
3.0 CRDi 4×4 AWD SUV
Notes
Front Brake upgrade kit only
Images are for illustration purposes only. Contents may vary
---
Only logged in customers who have purchased this product may leave a review.