Ultra Vision Raptor 120w LED Driving Lights (5700K) – Pair
---
Ultra Vision Raptor 120w LED Driving Lights (9″ Black 5700K)
Price per Pair
100% Australian Made
3-year Warranty
Wiring Harness Included
AUD$829.00 (Excl. Tax AUD$753.64)
Description
Ask a Question
Reviews (0)
Instructions
Description
Ultra Vision Raptor 120w LED Driving Lights (9″ Black 5700K) – Pair
Ultra-Vision is Australia's No 1 Manufacturer of LED Lighting for Extreme Environments, priding ourselves on being leaders in the lighting industry and at the forefront of innovation.
By manufacturing in Australia, Ultra Vision have total control over the quality and output of the lights giving them the confidence to offer a 3-year warranty, irrespective of the environment. As a result, the products have become favourites in the Australian 4×4 and mining scenes.
The Raptor range of driving lights set the standard in performance with excellent distance and beam width from a high-quality product at an affordable price, making them ideal for trade and fleet vehicles.
Raptor 120W LED Driving Light
The Raptor 120W driving light provides the high performance and quality you can expect from Ultra Vision with a usable light distance of 1000m at 1 lux at a cost-effective price.
Notes
Caution – These may interfere with your Vehicle's Forward Radar Sensors used for driver assistance on late-model vehicles due to the physical size of the Raptor 120 9″ lights.
We recommend verifying the radar sensor's location with your manufacturer to ensure the radar is not blocked by the installation of the driving lights.
Our UltraVisions Nitro Max 80 7″ lights are a great alternative providing exceptional distance and light spread in a compact size.
Terminology
Are you unsure what all the terminology means? Lux vs Lumens, Raw Lumens vs Effective Lumens output?
Find out all you need to know from our FAQs – Ultra-Vision FAQs.
Features
24,818 Effective Lumens (per pair)
1000m at 1 Lux
Designed and Manufactured in Australia.
3 Year Warranty on lights
Lifetime Warranty on all brackets
Beam Pattern
Specifications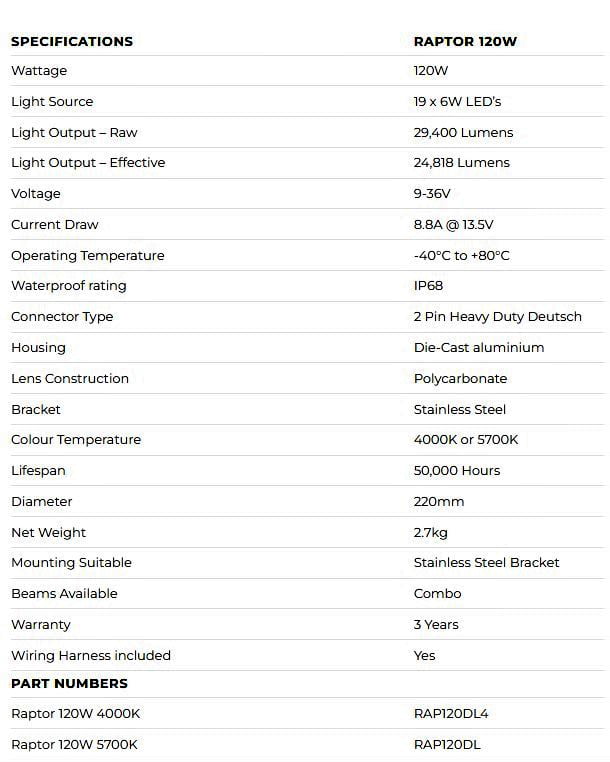 Kit Includes
1 x pair Raptor 120W LED Driving Lights (5700K, Black Rim)
1 x pair Clear Lens Covers
Wiring Harness
Installation wiring diagram & Instructions
Part No. RAP120DL
Notes
Dashboard switches and H4 light wiring patch leads are available from our Ultra Vision accessories
---
Only logged in customers who have purchased this product may leave a review.