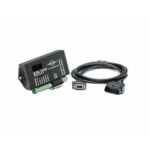 OBD-2 to PWM Tacho and Speed Sensor (LS V8)
---
To Suit
Vehicles fitted with an LS V8 engine
AUD$225.01 (Excl. Tax AUD$204.55)
Description
Ask a Question
Reviews (0)
Description
Speed Sensor – Tacho Interface Module for OBD-II vehicles
Using the Dakota Digital STA-1000 makes late-model drive-train integration as simple as possible. The STA-1000 plugs directly into the OBDII diagnostic connector, providing a user-adjustable traditional Speedometer, Tachometer and Check-Engine output integrated into your factory original or after-market instruments.
Features
Fully compatible with factory EFI and common after-market electronic speedometers
User-selectable output (4k, 8k, 16k PPM signals) using Sine or Square wave options
+/- 35 percent speed signal correction, compensating for tire size or gearing changes
Adjustable 4, 6 or 8 cylinder tachometer signal output
Check Engine light output provides a grounded (-) output to activate a check engine light of your choice
An automatically calibrated output for aftermarket cruise control's can be activated by making a connection to the higher-resolution fixed VSS sensor
Small footprint measures 4-3/4″x 3″x 1″, making it easy to hide
Compatible with J1850 and CAN OBDII protocols
To Suit
Vehicles fitted with LS V8 engine conversions giving correct functionality back to your factory instruments.
Please contact us if you have any questions.
---
Only logged in customers who have purchased this product may leave a review.