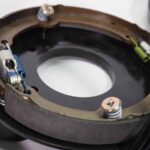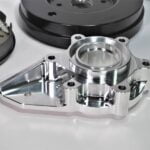 Transmission Handbrake – LandCruiser HZJ76 & HZJ79
AUD$2,585.00 (Excl. Tax AUD$2,350.00)
---
Transmission Handbrake upgrade kit
To Suit – Toyota LandCruiser (Single Cab, Dual Cab, Wagons)
HZJ79 – 4.2L Diesel (5 – Speed split transfer case)
HZJ76 – 4.2L Diesel (5 – Speed split transfer case)
Description
Ask a Question
Reviews (0)
Description
Transmission Handbrake – Toyota LandCruiser HZJ76, HZJ79 (Single Cab, Dual Cab, Wagons)
Transmission Handbrake Manufactured to suit 5 Speed Split transfer case LandCruiser HZJ70 series single cab, dual cab & wagon Models
The factory LandCruiser 70 series drum in disc handbrake is well known for filling with debris, quickly getting out of adjustment and giving the operator no confidence in its effectiveness.
Our transmission handbrake is mounted on the transfer case output shaft which keeps the brake up out of the road grime and debris, maximising service life, reducing service intervals and saving costly parts.
The advantage of a transmission brake is that it locks the entire drive-train, including all four wheels in four-wheel drive vehicles when selected. As the handbrake is mounted prior to the differential you also gain the differential ratio advantage over braking at the wheels.
When installing the Marks4wd Handbrake upgrade to your vehicle the original handbrake cable, shoes, clips, etc can be removed.
Key Advantages
Large 240mm drum – designed for vehicles with a weight exceeding 4000kg
Increased reliability and safety
Improved service life
Increased holding ability
Ease of servicing
Minimised servicing time and costs
Easy on-vehicle adjustment of the handbrake
Kit Includes
Downloadable Instructions (requires login)
To Suit – Toyota LandCruiser (Single Cab, Dual Cab, Wagons)
HZJ79 – 4.2L Diesel (5 – Speed split transfer case)
HZJ76 – 4.2L Diesel (5 – Speed split transfer case)
Notes
No modification to rear driveshaft with standard height suspension
Shorten rear driveshaft by 5 to 10mm with 50mm raised suspension
The handbrake drum hangs slightly lower than the transfer case
---
Only logged in customers who have purchased this product may leave a review.