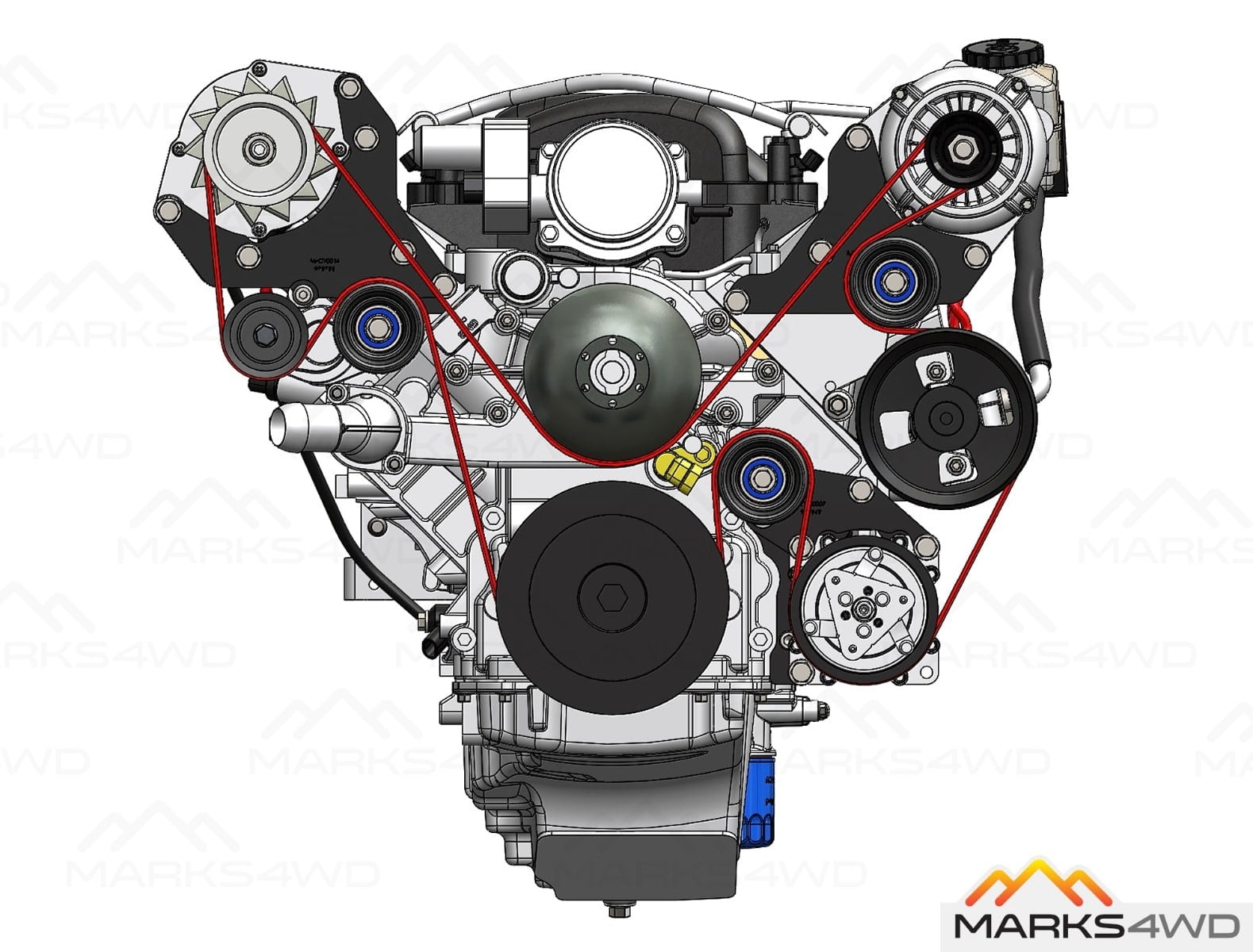 Dual Alternator Kit – 12v LHS / 24v RHS & A/C Compressor LHS – LS V8 (6.0L / 6.2L)
AUD$1,145.00 (Excl. Tax AUD$1,040.91)
Accessory Mount Kit 12v Alternator Left Hand Top, 24v Alternator Right Hand Top & Sanden Compressor Left Hand Bottom
To suit:
Description
Ask a Question
Reviews (0)
Description
Marks 4WD have designed and manufactured this alternator kit to high mount your factory 12v alternator on the left hand top, a Bosch 24v alternator to the right hand top and low mount a Sanden Compressor on the Left Hand Bottom of your 6.0/6.2L LS Series V8 engine.
This setup can work for many different vehicles such as 4wds, hot rods, classic cars and more. The Sanden Compressor could be used for A/C or as an air compressor. The kit includes brackets for fitment of the alternators and Sanden compressor, brackets to mount the power steering reservoir and move a coil pack for clearance, idler pulley, special 6pk 24v alternator pulley, power steering reservoir hose, belt and all hardware for installation.
The 6pk pulley that we have made for this kit has been made to stop the alternator over spinning when it is fitted to the LS engines.
Note: If you are running a VF engine you will need to purchase the VE power steering pump and reservoir to make full use of this kit (VF engines run electronic power steering)
Note: If your engine has non standard pulleys, tensioner or harmonic balancer the belt supplied may not fit – you will have to purchase the correct belt.
The A/C bracketry in this kit is designed to be used with our MFG20006 Compressor. Please Note: When installing into 80,100 & 105 series Landcruisers using the MFK1765EM engine mounts, you will need to use the CM7865 Compressor instead.
Kit contains:
12v & 24v Relocation Brackets
Sanden Compressor Brackets
Idler Pulley
6pk 24v Alternator Pulley
Coil Pack Bracket
Power Steering Reservoir Bracket & Hose
Belt
Spacers
All fixing hardware
To suit:
Part No. MFK50160
---
Only logged in customers who have purchased this product may leave a review.