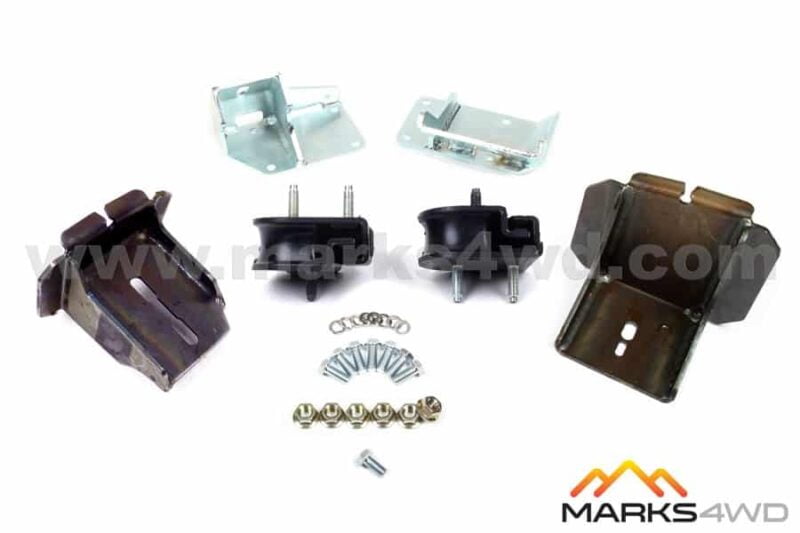 Transfer Case Adaptor – 4L60E 6-bolt to Patrol GQ 4.2L / GU 3.0L, 4.2L, 4.5L, 4.8L
---
Nissan Patrol engine conversion using the 4L60E 6 bolt automatic transmission
To Suit – Nissan Patrol
GQ / Y60 – 4.2L petrol transfer case
GQ / Y60 – 4.2L diesel transfer case
GU / Y61 – 4.5L & 4.8L petrol transfer case
GU / Y61 – 3L & 4.2L diesel transfer case
AUD$2,020.00 – AUD$2,270.00
Description
Ask a Question
Reviews (0)
Instructions
Description
Transfer Case Adaptor to suit 4L60E 6-bolt to Nissan Patrol GQ 4.2L / GU 3.0L, 4.2L, 4.5L, 4.8L
The transfer case adaptor housing replaces the automatic transmission extension housing. The adaptor housing then fits to the transfer case using the original Nissan bolts. The housing has mounting provisions for the hi/low lever.
The automatic transmission will need to be disassembled. The main output shaft is removed and replaced with one supplied in the adaptor kit.
This kit has been designed to keep the transfer case and cross member in the factory location in a Patrol fitted with a manual transmission originally, which means the front and rear tailshafts do not need to be modified.
This is dependent on the fact that the engine and gearbox are being changed together to ensure the engine mounts are in the correct location.
The Hi-low linkage and brackets fitted to the factory automatic-equipped Patrols will not suit this adaptor kit. We recommended that you use the lever, linkages and lockout plate from a manual vehicle.
Dimensions
The 4L60E 6-Bolt has an overall case length of 553mm and when coupled up to our 41mm adaptor plate and the 155mm adaptor housing gives you an overall transmission length of 749mm.
This is the same length as a factory Patrol manual transmission with one of our MFK605 bell housing adaptors.
The kit has been designed to make the conversion from manual to automatic (or vice versa) as easy as possible.
Kit Includes
Two adaptor housings
Engine mounts to suit
Coupler shaft
Reluctor ring
Seal
Bolts
Instructions
Engine Mounts
To Suit – Nissan Patrol
GQ / Y60 – 4.2L petrol transfer case
GQ / Y60 – 4.2L diesel transfer case
GU / Y61 – 4.5L & 4.8L petrol transfer case
GU / Y61 – 3L & 4.2L diesel transfer case
---
Only logged in customers who have purchased this product may leave a review.